The ferry castle
Foreword

: in the Ferry Castle, we like and respect nature !
Most of our spot lights are economy cenergy bulbs.
Toilets are fitted out with an economy flush, showers are equipped with an "ecoxygen" system : water could be rare
…
Linen is cleaned with washing nuts (spindus mukorossi) from India and Nepal,
then perfumed with essential oil, laundered with saltwort.
Dust bags are retrained. A tonne of paper is worth 17 trees. These daily attitudes contribute to protect the environment, without harming the comfort you need... and we are happy to offer.
Ecology is for planet the same as hygiene for people…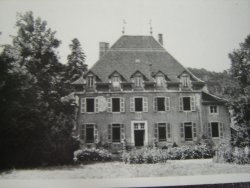 The house is located in the village of Vertrieu along the river Rhone.
At the time when inland water transports were flourishing, a ferry used to link the districts of Vertrieu (Isère) and Saint-Sorlin (Ain) on the other bank.
The castle bears its name because of the huge size of the building (26 rooms), and because several inhabitants were aristocrats (a weather vane on the roof stands the armorial bearings of a baron). In the XIXth and XXth century, bills of sales such as in the current use (local talkings, postcards...) call the house "Ferry Castle".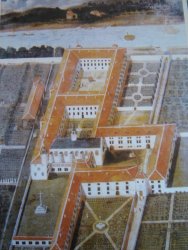 Bedrooms
are the living testimony of the story from the house and its inhabitants through furniture and decoration.
Your breakfast can be served either in the huge dining room or in the garden.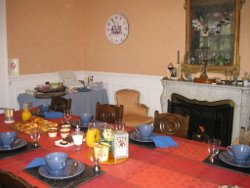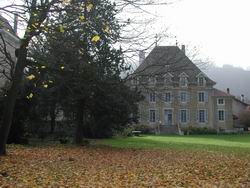 Evening meals are also at your disposal subject to reservation from Monday to Friday. We have also selected some of the best restaurants from the region depending on your mood, desires, tastes...