Bedrooms
| | | |
| --- | --- | --- |
| | Available in every room | |
Every bedroom is fully equipped with antique furniture and, of course,
private bathrooms and toilets.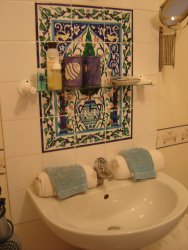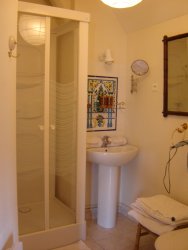 The Bargees bedroom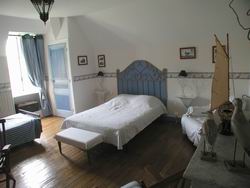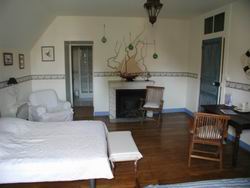 At the end of XIXth century, the Ferry Castle was bought by Claude Beaufrère, first bargee manager of Vertrieu. I wanted to dedicate a room for the bargees who transformed Vertrieu as the most important harbour on the Rhone… «
Ô temps des vieux, temps de simplesse où sur le Rhône tourbillonnait la vie
. » Frédéric Mistral - Le poème du Rhône, 1897
The colonial suite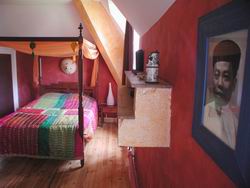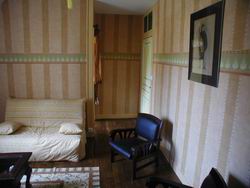 As a gesture to my grand-father Lucien Thiollier, who purchased the castle in 1962, i designed this suite in a colonial style, gathering documents and family portraits.
Lucien alias « Fip » grew up in Indochina where he was a manager in the civil service in the district of Hué where my mother was born in 1941.
Bedroom - La Magnanerie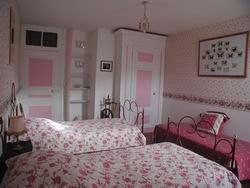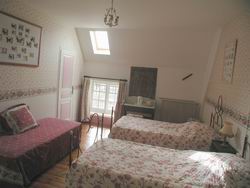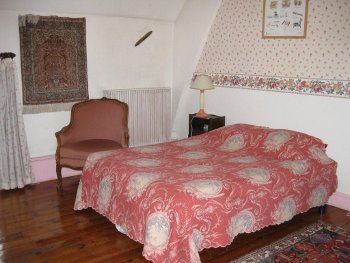 My grand-father always toldd me there was a silkworm breeding called « Magnanerie » in the castle... On January 23rd 1850, Antoine Paillière, trader from Lyon, both bought Ferry Castle and a mulberry land in the cloth town of La Balme. He made alterations to turn the castle into an official plant...
The Claire's bedroom
My cousin Claire spent more than ten years here. She is a lovely, quiet and sensitive girl. This is why i chose to create an initimate room with calm atmosphere and refined decoration….